Get our Bi-Weekly edition of
San Diego Networking Events
Experienced Financial Search in San Diego
Engage Thompson Financial Search to conduct your next executive search for a new controller, senior accountant or other key financial position.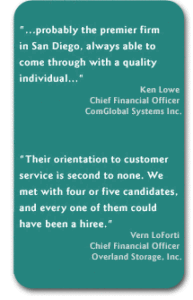 Since 1981, Thompson Financial Search has specialized in recruiting and placing degreed, experienced accounting and financial professionals with San Diego area companies.
The firm's experts are well-connected and experienced, excelling in long-lasting matches that are effective for the employer and the employee. Read what local business leaders have to say about their experiences with Thompson Financial Search. Having completed over 700 searches at the professional level in accounting and finance in San Diego County, Thompson Financial Search is the firm to call, for successful corporate matchmaking. A Thompson Search Company.
Thompson Search is a family of companies providing financial and accounting talent to San Diego businesses. To find C-level executives, mid-level professionals and interim or part-time consultants, turn to Thompson Search to expertly fill all of your recruiting needs.
For Financial Executive Search, call 858-452-1200 x113